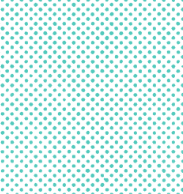 Bond 2023 Election Results
Find details about the votes for each proposition.
Thank you, GISD community! All propositions were approved.
This vote proves our community supports our students and teachers and will allow us to continue the successes we've had in academics, athletics, college preparation and job skills training. We would like to thank our citizen bond steering committee for all the work they did in creating this bond package over a ten-week period. We greatly appreciate the tremendous effort our Board of Trustees and community and staff members put into this bond election and thank each and every voter who took the time to let their voice be heard on the future of GISD.
Proposition A
|   | Total | Vote % | Early Voting | By Mail | Provisional Ballots | Election Day |
| --- | --- | --- | --- | --- | --- | --- |
| For | 8,952 | 64.08% | 5,692 | 92 | 2 | 3,166 |
| Against | 5,017 | 35.92% | 3,048 | 64 | 0 | 1,905 |
| Total | 13,967 | 100.00% | 8,740 | 156 | 2 | 5,071 |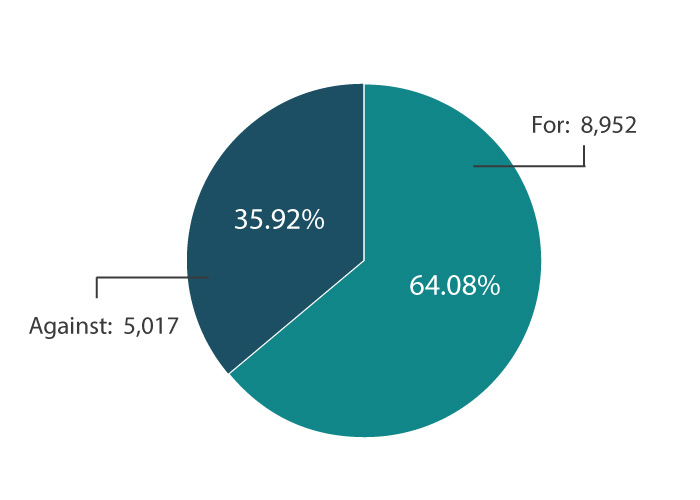 Proposition B
|   | Total | Vote % | Early Voting | By Mail | Provisional Ballots | Election Day |
| --- | --- | --- | --- | --- | --- | --- |
| For | 8,202 | 58.78% | 5,212 | 80 | 2 | 2,908 |
| Against | 5,751 | 41.22% | 3,528 | 70 | 0 | 2,153 |
| Total | 13,951 | 100.00% | 8,740 | 150 | 2 | 5,061 |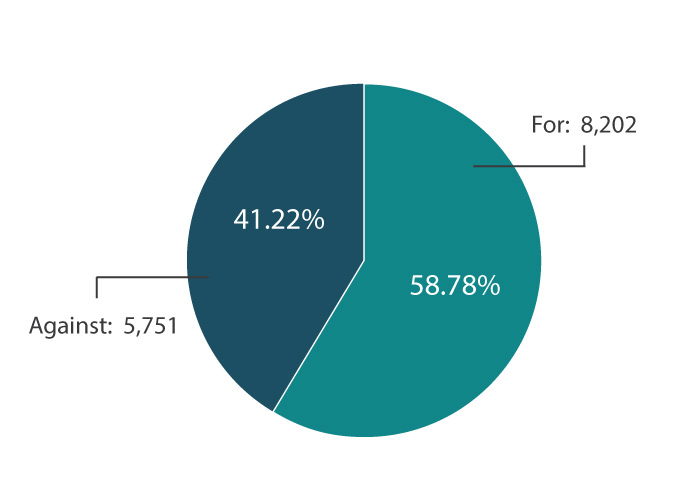 Proposition C
|   | Total | Vote % | Early Voting | By Mail | Provisional Ballots | Election Day |
| --- | --- | --- | --- | --- | --- | --- |
| For | 8,882 | 63.60% | 5,640 | 95 | 2 | 3,145 |
| Against | 5,082 | 36.40% | 3,106 | 53 | 0 | 1,923 |
| Total | 13,962 | 100.00% | 8,746 | 148 | 2 | 5,068 |